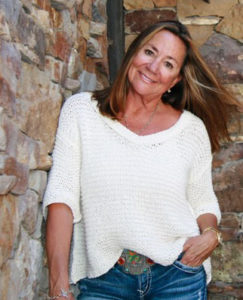 Karen Brooks, San Juan Realty, Inc., Broker Owner
Born in Pensacola to U.S. Navy parents, Karen Brooks moved to Cocoa Beach, Florida in early 1971. She shared her childhood with three sisters including her twin, Jeweler Sharon Anderson of Cocoa Beach and Highlands, North Carolina. Karen grew up under the Florida sun where her days were spent swimming, surfing, fishing, and painting exciting canvases. This lifestyle built a foundation for creativity spurring Karen's love of art from a very early age.
Karen co founded The Connection in Florida and Motor Power Industries in Baltimore, Maryland. The Connection provided Karen with a spring board for experience in nationwide sales and customer relations giving her the foundation for very successful business discipline.
The story of Karen's residency in Ridgway is common to many people in the area after retirement, while on vacation she fell in love with the lifestyle and unsurpassed beauty truly unique to Ouray County Colorado. In 2000 she purchased a residence in the golf community of Fairway Pines Village subdivision (now known as the Divide Ranch and Club) on Loghill Mesa. She divides her time between Florida, where she is licensed to sell Real Estate as well and Colorado.
In 2002 she received her Colorado Real Estate Broker's License and in September 2005, Karen founded San Juan Realty Inc., as the Employing Broker. She quickly developed the reputation of possessing high standards in professionalism coupled by a strong work ethic. San Juan Realty Inc. has grown into one of the leading Brokerage firms offering honest, knowledgeable and reliable information regarding Real Estate on the Western Slope.
Karen warmly invites you to experience "Real Estate . . . Done Right," with her and all of the experienced qualified Broker Associates employed by San Juan Realty Inc. in beautiful historic downtown Ridgway, Colorado.
Karen A. Brooks
Broker Owner
Email: [email protected]
Main Office 970.626.3200
Mobile Cell 970.729.3200